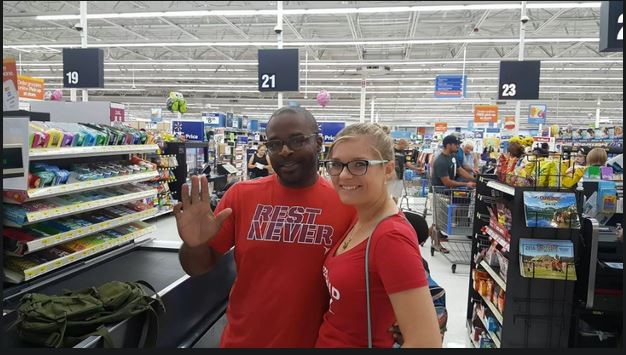 2017 has arrived! As we step in to a New Year full of hope and blessings, it is time to take account of all that caught our eyes and ears in the past year. The year 2016 was charged with changing political scenarios across the world, and it would not be an exaggeration to say it ate up a lot of our time and attention.
But when we look back, it was also a year that showed us some incredible acts of kindness. These random acts of kindness were performed by both celebrities and commoners, kids and adults, co-workers, and friends, in short by people like you and me. Who can forget the kid who offered free hugs to police officers, the service staff who consoled a grieving widow in their drive-thru or the barber who gave free haircuts to the homeless. These little acts showed that kindness is not all about money and if you care you too can make a difference in someone's life.
Take for example, when this stranger paid for a teacher's school supplies at Walmart.
Sabrina Drude was standing in line at Walmart, her cart piled high with notebooks, pencils and markers. The seventh-grade teacher at Francis Scobee Middle School in San Antonio, Texas, explained to a customer behind her that she teaches in a very low socioeconomic area where kids can't always afford what their peers can. When her total of $97 flashed on the cash register, the customer, later identified as Lester Brown, jumped between Drude and the cashier with a bill in his hand. "He said, 'Put your wallet away,' and I just started crying," Drude told CBS News. "That's the sweetest thing I've ever heard."
Read more of such wonderful deeds here:  http://www.cbsnews.com/pictures/stories-from-2016-that-will-restore-your-faith-in-humanity/
Credit: www.cbsnews.com
So, what are you waiting for? Spread kindness around and celebrate the little moments of life. After all we are a part of HumanKind!
Sheltering Grace Ministry, Ltd. is a 501(c)3 non-profit ministry headquartered in Marietta, GA. We resolve the initial crisis of homelessness by providing a safe place to live during pregnancy and by providing mothers with the tools they need to improve decision-making, to enhance employment options, and increase family income, to act responsibly as the head of their household, and to develop the self-reliance to progress to permanent independent living. Please join us in renewing and rebuilding the lives of these brave women – #Be1of5000.