Being homeless is painful. Life on the streets brings with it a fair share of illness and addiction thanks to being thrown to the elements. Very often in the struggle to meet the needs of food and shelter, homeless people are unable to get medicines and much needed health care. According to JoNel Aleccia, Kaiser Health News, the number of elderly homeless needing palliative care is staggering. That's where a team of dedicated people make sure that the homeless get the care they deserve.
Please take a look at the article below and let us know what you think of the program.
What do you think can be done to help the ones you see every day, who may be suffering from similar issues?
 We were terribly saddened to hear about a homeless mother who lost her newborn to lack of medical care and the winter cold in Portsmouth. With your help, we can help prevent terrible circumstances like this.
Donate today at http://Be1of5000.com  
You may be the last hope for a homeless pregnant women who decided to give their babies a chance in life.
---
Mobile team offers comfort care to homeless at life's end
By @JoNel_Aleccia, Kaiser Health News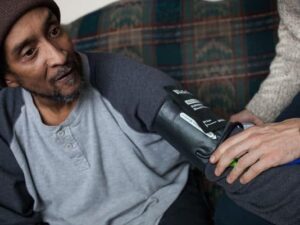 Credit: www.usatoday.com
The day he learned he had liver cancer, Michael J. Reece, 56, was spending nights in a Seattle homeless shelter, leaving each morning to wander the city streets.
For weeks, he'd been in constant pain, worried about the swelling in his legs and gut. Then he faced surgery and chemotherapy — and the dread that comes with a potentially deadly diagnosis.
"I cried," recalled Reece, a former drug addict who was estranged from his family and cut off from traditional medical care.
That's when he met Tony Boxwell, a bald, burly nurse practitioner at the heart of what experts say is the first U.S. program that sends mobile teams to provide palliative care — comfort care — to homeless people facing terminal illness.
---
Sheltering Grace Ministry, Ltd. is a 501(c)3 non-profit ministry headquartered in Marietta, GA. We resolve the initial crisis of homelessness by providing a safe place to live during pregnancy and by providing mothers with the tools they need to improve decision-making, to enhance employment options, and increase family income, to act responsibly as the head of their household, and to develop the self-reliance to progress to permanent independent living. Please join us in renewing and rebuilding the lives of these brave women – #Be1of5000.