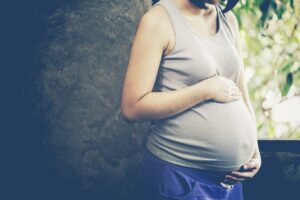 "I was working for $8 an hour and living out of my car," she said. Jessica Potts, who is expecting her baby girl in June, was a victim of low wages and homelessness. As with many homeless expectant women, she was unsure of the future of her baby.
However, as she sits at the East Point facility of Sheltering Grace Ministry which cares for homeless pregnant women and their babies, she has a new found confidence. Takneesha Copeland, a native of Connecticut and Charlene James also have similar experiences to share. These are women who not only wanted to give a chance to their unborn babies, but also wanted to make life better for themselves.
According to Nichole Golden from The Georgia Bulletin, Dr. Ralph E. Bell, executive director of Sheltering Grace, mentioned that the new facility is now picking pace in helping more homeless pregnant women with the help of kind souls who are donating and volunteering for them. He also hopes for making these women equipped enough to get better jobs once they move out of the facility. Above all, he believes in God's timing and immense Grace with which the facility will be made a success.
Please take a look at the article below discover stories of women who have experienced homelessness during their pregnancy, and found Sheltering Grace Ministry's open arms.
We would love to hear what you think of the program.
If you would like to make a donation to help us support homeless pregnant women, please click here to do so.
Please SHARE this article with your friends and family so that more people will get to know of the help available and the support needed for this facility.
---
Former St. Thomas Manor Now Shelters Women Homeless in Pregnancy
By Nichole Golden, Staff Writer, The Georgia Bulletin
EAST POINT—Once a Catholic personal care home for the elderly, the former St. Thomas Manor in East Point is now a place of new beginnings for women in crisis.
The 10,000-square-foot building on Washington Avenue stood vacant for 10 years before its owner, the Archdiocese of Atlanta, donated it to Sheltering Grace Ministry in 2015.
Sheltering Grace, based in Marietta, provides a residence, life skills and workforce training to expectant mothers who are homeless.
This month, three women moved into the building as they work toward better futures. Dr. Ralph E. Bell, executive director of Sheltering Grace, said two more women will be living there by the end of January.
"We started with three just so the staff could work out the kinks," he said.
Credit: georgiabulletin.org
---
Sheltering Grace Ministry, Ltd. is a 501(c)3 non-profit ministry headquartered in Marietta, GA. We resolve the initial crisis of homelessness by providing a safe place to live during pregnancy and by providing mothers with the tools they need to improve decision-making, to enhance employment options, and increase family income, to act responsibly as the head of their household, and to develop the self-reliance to progress to permanent independent living. Please join us in renewing and rebuilding the lives of these brave women – #Be1of5000.