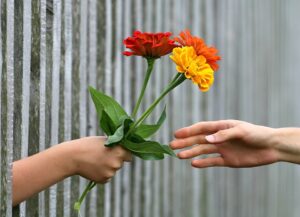 We've all had that moment in life when a small help from someone made a huge difference to our day, or even our life. We might have thanked that person, felt grateful or even prayed to God for sending that blessing our way. But the question is, "Have we paid it forward to someone else who is in need?" Have you stopped and thought about someone whose life might have transformed, if only you extended your hand to help?
This is where the story of Vanessa Howard becomes different from those who receive blessings and conveniently forget to GIVE it back. According to , a former homeless woman named Vanessa Howard got a fresh start in her life working at salons and is a salon owner today. Because she never forgot the blessings she received during her time of need, Vanessa decided to use her salon skills to help homeless women and children feel confident and important – regardless of their current circumstances. Read her inspiring story below.
Consider following Jennifer's example: Whenever you receive a help or blessing, pay it forward, even in a small way. Sheltering Grace Ministry provides you with a wonderful opportunity to help homeless pregnant women transform their life into productive citizens and excellent mothers. Learn more about how you can help us by being a part of our #Be1of5000 program. Don't forget to share this with your friends and loved ones.
---
Formerly Homeless Hairdresser Gives Free Makeovers To Homeless Girls
By Jennifer Earl
Two decades ago, Vanessa Howard was a homeless single mother of three with only $1.75 to her name.
During that time, the woman from Tampa, Florida, admits she was — at one point — suicidal.  A victim of domestic violence, she had first gotten pregnant as a teen and left her "drug infested" childhood home, not sure where to go next.
"I cried out one day," Howard told CBS News. "I was tired of being homeless, tired of being alone and prayed for help." The next day, Howard hopped on a city bus with her three little girls and headed to look at an apartment, hoping that this time, the landlord would take a chance on her. When she finally met the building owner, he said something she didn't expect.
"He was like, 'I don't know you, but I feel like you should have this place,'" Howard described. "It was from there that I found hope and restoration. I just wanted to pay it forward."
Credit: cbsnews.com
---
Sheltering Grace Ministry, Ltd. is a 501(c)3 non-profit ministry headquartered in Marietta, GA. We resolve the initial crisis of homelessness by providing a safe place to live during pregnancy and by providing mothers with the tools they need to improve decision-making, to enhance employment options, and increase family income, to act responsibly as the head of their household, and to develop the self-reliance to progress to permanent independent living. Please join us in renewing and rebuilding the lives of these brave women – #Be1of5000.