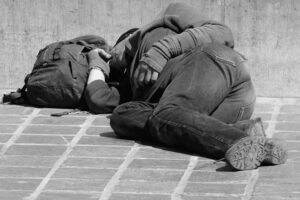 Homelessness has been one of the top issues being faced by many cities. It is ironic that many unused buildings remain vacant while the homeless community struggles on the streets. Very often the organizations helping the homeless population are in want of buildings that can be converted as shelters. In its newest endeavor, Amazon has decided to adapt a portion of its new building to accommodate a shelter caring for the homeless in Seattle.
According to Nick Wingfield, Amazon will give roughly half of the six-story building to the shelter, providing it with 47,000 square-feet of space with private rooms that can hold 65 families, or about 220 people and their pets.
Learn more about how this serves the purpose of helping the homeless in the article below. Share it with those interested in the causes of the homeless. Please leave your valuable comments on the need for more such philanthropic activities from corporations to help local issues.
---
Amazon to Share New Building with Homeless Shelter in Seattle
By Nick Wingfield
SEATTLE — A year ago, when Amazon let a homeless shelter for families move into a former motel it owned, it was viewed as a nice but fleeting gesture.
The motel was on a chunk of downtown property where Amazon planned to eventually erect yet another set of sparkling buildings to meet its insatiable need for office space in this city, where it has come to embody both the region's economic boom and its struggles with affordability. The hotel would be torn down and the shelter kicked out when that time came.
Instead, Amazon has decided to let the shelter stay. In an unusual arrangement, the company has agreed to give the shelter, Mary's Place, a permanent home inside one of the new office buildings for which it will break ground in the fall.
Credit : nytimes.com
---
Sheltering Grace Ministry, Ltd. is a 501(c)3 non-profit ministry headquartered in Marietta, GA. We resolve the initial crisis of homelessness by providing a safe place to live during pregnancy and by providing mothers with the tools they need to improve decision-making and enhance employment options. In doing so, we increase family income, allowing them to act responsibly as the head of their household, and to develop the self-reliance to progress to permanent independent living. Please join us in renewing and rebuilding the lives of these brave women – #Be1of5000.