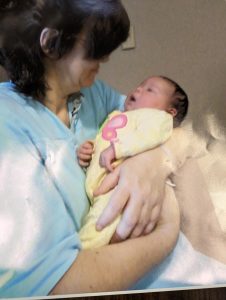 Nine years ago, we received a call from an employee of the city of Atlanta. It was the middle of winter, and they were trying to help a 40-year-old homeless pregnant woman who had been living in a tent under a bridge for the last several years. Pam, we'll call her Pam, was in her tenth pregnancy and the state had taken each of her babies from her. Sheltering Grace took Pam in and began to minister to her, providing among other things love, compassion and friendship with no judgment. It very quickly became apparent that to assist Pam was going to be a challenge. She was filled with anger and rage and did not trust anyone. Her anger and distrust were reasonable when you consider the life she lived and the abuse she had endured at the hands of the many men that came and went in her life.
We provided her a room in one of our maternity homes and enrolled her in Life Skill classes. Because of the honesty and transparency, she experienced, she began to seek to better herself and concluded that she wanted to keep the baby she was carrying. Through classes, Bible study and loving relationships, her relationship with Christ became evident and her determination to parent the child she was carrying grew stronger each day.
When Pam gave birth, the Department of Family and Children Services was called, and they took custody of her baby. She was devastated and heartbroken. The ministry decided to help her in her effort to regain custody of her child. Sheltering Grace worked with the guardian ad litem appointed by the court and was able to convince the court that Pam was capable of caring for her child.
The judge ruled that just because the state had taken her other children, they did not automatically have the right to take this child. Gail was returned to her mother.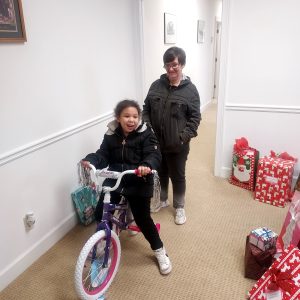 They visited our office this past Christmas to say hi. We were overjoyed to see them.  It made everyone's Christmas special. We give honor and glory to God from whom grace, and mercy is new every day. Pam and her daughter Gail are in a safe and stable home and doing well. We were able to help Pam and her daughter and the dozens of women and children that have come to us for assistance because of partners like you.
We covet your continued support and ask you to "Be 1 of 5000" donors to give just $10 a month to ensure that we can continue to provide a safe haven for those less fortunate.  https://shelteringgrace.org/donate/